Hans Koenen Statues in bronze and stone
Meaningful sculptures with an identity, their own story, a reflection of a dynamic process, beauty and struggle. Large standing sculptures, smaller or on the wall. Mainly free work but also commissioned. His work can be found in private and public collections.
Statues in bronze or stone, realistic or abstract figurative as monuments with personal meaning or to decorate living spaces for private or business purposes.
Fill in the contact form or call +31 625 2362 94 for more information about:
– Availability of sculptures, or commissioning a work
– Sculpture courses
– Sculptures can also be rented or rented, which is sometimes interesting for companies that opt for original art.
Statues in bronze or stone realistic or abstract figurative with personal meaning as a monument or to decorate living and working spaces inside or outside for private or business. Fill in the contact form to receive more information about availability and prices of sculptures or to have one made to order.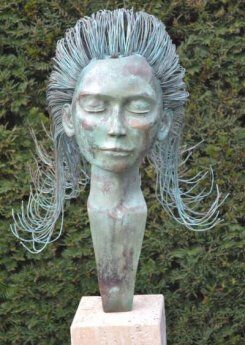 Hans Koenen
Reflection
Abstract Female Head SculptureShiny goddess face inside or outside statue.The Face expresses comfort and relaxation, although it is in the middle of the demanding and sometimes chaotic world (the hair). The sculpture should emphasize the growing importance in life of meditation and reflection.The copper wires are welded internally to the bronze head. The sculpture is finished with a patina but can be painted in any desired color on request. It has a 10mm stainless steel rod to stand on the base.
Subscribe to the newsletter
Subscribe to newsletter to stay informed