Hans Koenen, geboren 1952, beeldhouwen autodidact
De basis werd al zo'n 40 jaar geleden gelegd. De ultieme uitdaging om van beeldende kunst een dagelijkse opdracht te maken is van recentere datum.
De levenstocht langs drinkwater- en irrigatie projecten, bruggen, scholen en ziekenhuizen in vooral Afrika en Oost-Europa heeft blijvende sporen nagelaten.
De verbondenheid met mensen van vroeger en nu, van daar en hier vormen de inspiratiebron én de worsteling die het kunstenaarschap gaande houden. Ieder beeld ontstaat, groeit. Beelden van brons of hardsteen, of gecombineerd zijn veelal realistisch of realistisch-figuratief. Kleine of grote monumenten die herinneringen en intimiteit oproepen of er gewoon zijn ter verfraaiing van de leef – of werkomgeving.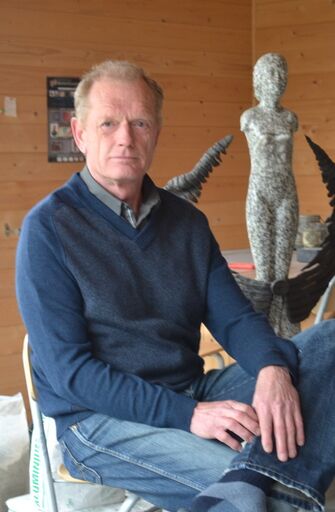 Exposities sinds 2012, de meest recente;
2023
The Enchanted Garden, Jodoigne, België 15 september – 15 october
Deelname landelijk atelierweekend 24 en 25 Juni 2023, WELKOM in atelier, galerie en tuin Hoofdstraat 7, 5473 AN
Galerie De Hollandsche Maagd, Gouda van 1 december – 21 januari 2023
Galerie Arsis / Kubra Art, Bergen op Zoom, 4 tot en met 26 maart
2022
Kunst Event, landgoed Zonheuvel Doorn – Culturele Regio 4 t/m 6