Een beeldhouwwerk kopen als kunstobject
Al jaren maak ik als kunstenaar een grote veelzijdigheid aan beelden, die zowel in de tuin als binnenshuis kunnen worden tentoongesteld. Een beeldhouwwerk kopen doe je om een uniek, persoonlijk accent aan te brengen in de ruimte. Mijn beelden zijn artistiek, creatief en gemaakt met veel geduld. Ik word daarbij veelal geïnspireerd door de verbondenheid met mensen van vroeger en nu, wat tevens een grote uitdaging is.

Ik hou van het experimenteren met materialen en technieken, en kan me echt verliezen in dit ambachtelijke kunstenaarschap. Bij mij kun je een beeldhouwwerk kopen waar hart en ziel inzit, dat geschept is met liefde voor het vak.
Op maat gemaakt beeldhouwwerk kopen
Je kunt bij mij een beeldhouwwerk kopen dat ik eerder heb vervaardigd, maar ik werk ook in opdracht. Dat wil zeggen dat ik een uniek sculptuur kan ontwerpen en maken waar je een eigen inbreng in hebt. Dit kan bijvoorbeeld ter herinnering aan een speciale gelegenheid, zoals een jubileum, de opening van een bedrijf of de geboorte van een kind. Als je een beeldhouwwerk wilt kopen dat ik op maat vervaardig, gaan we eerst met elkaar in gesprek. Al jouw wensen en eisen verwerk ik in meerdere schetsen, en pas bij akkoord ga ik aan de slag. Het uiteindelijke beeldhouwwerk is een unieke mix van jouw wensen en mijn artistieke insteek, en gemaakt van het materiaal van jouw keuze.
Wil je een tuinbeeld kopen waar je qua ontwerp zelf aan hebt bijgedragen, of een inscriptie in een bestaand beeld toe wilt voegen zodat het een passend cadeau wordt? Neem even contact met me op om de mogelijkheden te bespreken.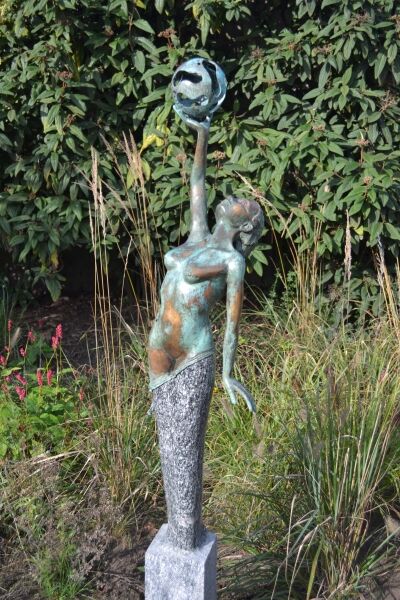 Zelf leren beeldhouwen in mijn atelier
Natuurlijk kun je bij mij een uniek beeldhouwwerk kopen voor in huis of in je tuin, maar het is natuurlijk ook heel bijzonder om zelf alle technieken te leren. Daarom geef ik in mijn atelier cursussen waarin je jouw eigen beeld kunt maken. Ik begeleid je en demonstreer hoe je de technieken toepast, waarna je zelf gaat experimenteren. Dit is perfect voor mensen voor wie moderne kunst kopen te duur is, maar ook voor creatieve mensen die graag met hun handen bezig zijn.
In mijn atelier is voldoende plek voor meerdere cursisten, en met mooi weer gaan we lekker naar buiten. Inschrijven voor de cursus beeldhouwen kan via 0031-413292750 of 0031-625236294 of door het contactformulier op deze website in te vullen.